Okay, I know. Weird headline for a blog such as mine. But hear me out.
In 1665, Cambridge University temporarily closed due to the bubonic plague. Isaac Newton had to work from home.  He used this time to develop calculus and theory of gravity.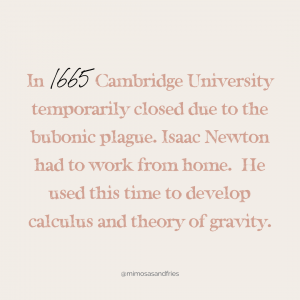 With the recent quarantine protocol happening all over the world. From Italy to Main Street U.S.A – the world is shutting down. Small businesses are affected. People's 401k's dropped in value. Families are faced with numerous challenges.
Times like these are scary. But they can also teach us things. Like how resilient we are. Or give us the opportunity to show how compassionate humans can be.
I believe that darkness reminds us where light can be.
I believe we are in a time that will pave way to allow us to witness some of the most significant innovations of this decade. Perhaps the century.
Because of the unprecedented change in human behavior, disruption to normal patterns. This is a time where we can have time to pause and use our imagination. Like we did as children with our cardboard boxes. Dreaming up things, we haven't had to before.
Don't focus on what we aren't getting to do. Try not to focus on what you are missing out on.
Instead…
Use this moment in history to seek what is good.
To practice compassion.
Spend time with your family.
Spend time with your heart.
Embrace your imagination.
Your childlike wonder!
Let's prove to the world just how amazing humans can be when we are tested beyond all limits.